Here are examples of our educational activities that benefit thousands every year:
1. Environmental education and awareness at schools
(funded by UNDP-GEF-SGP, the American Consulate General in Jerusalem, and the Canada Fund for Local Initiative (CFLI)). For examples of these activities see this video (Arabic and English).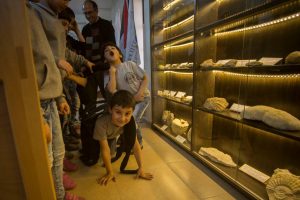 2. Environmental Awareness and Education and Climate Change Action for Communities in Palestine
(funded by the City of Geneva, implemented in collaboration with Zoï Environment Network (zoinet.org)). You can view and download some of the educational material here (Arabic and English):
3. Held many workshops such as:
Fisheries Bureau of the department Dennis Riecke, a fisheries biologist with the Mississippi Department of Wildlife, Fisheries, and Parks (16 October 2017)
Soap making and glass recycling (10 September 2016)
GIS systems (14 July 2016)
Water and natural resource management (2 April 2016)
Peace-building in the Holy Land: Strategizing Our Popular Resistance, Bethlehem, Palestine (4-7 November 2015)
Making Scorpions Using Recycled Wires (14 July 2015)
Water Innovation and Project Development (15 June 2015)
Peace Gardens and Trauma Relief (24 May 2015)
Museums in Palestine (23 April 2015)
Beekeeping (April 2015)
Mushrooms (24 March 2015)
Geology and paleontology (31 March 2015)
Environment day at the museum (30 March 2015)
Cancer (3 March 2015)
Research Methodology and Ethics (27 January 2015)
Taxidermy (December 2014)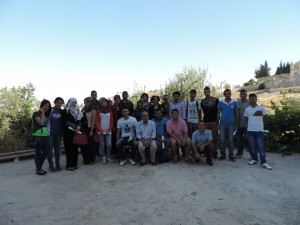 4. Represented BU on meeting at Ministry of Education on Horizon2020 and on the Higher Council for Innovation and Excellence among others.
5. Mentored graduate and undergraduate students at Bethlehem University and three other Palestinian universities (PPU, HU, BZU) on senior thesis and graduate research. Many won top awards (for example students in architecture at PPU for design of new PMNH building).
6. Hosted in the museum and garden over 70 school delegations serving over 3000 student visitors who became aware of environmental issues
7. Museum staff participated in over 50 educational workshops and conventions learning new skills and networking with over 2000 people.
8. People also get educated visiting our exhibits or by working in our collections.