Projects and Grants
PIBS is thankful for all of Our Partners, for supporting our mission.
Ongoing Projects
Dec 2020–Jun 2022 Consultancy to build 6th National CBD report and national biodiversity action plan for Palestine. Ministry of Finance and Environmental Quality Authority.
Jun 2020-Jun 2021 Green Oasis in Bethlehem for Plant and Ecosystem Conservation. Mediterranean Basin Hotspot- CEPF-MED project.
Jun 2020 – Jul 2021 Academic Cooperation with the Environment Quality Authority to Refine Strategies for Biodiversity Conservation in Protected Areas in Palestine. Royal Belgian Institute of Natural Sciences.
Jan 2020-Dec 2022 Unity and diversity in nature and society. Partnership of PIBS, Galilee Society and Palestinian Center for Rapprochement Between People. EU Peacebuilding Initiative. EuropeAid/162124/DD/ACT/Multi, Grant Reference ENI/2019/162124/83.
Dec 2019-Nov 2022 British and Palestinian museum collaboration in research, education, and conservation. Royal Society. Partnership with Alfried Vogler of the Natural History Museum, London.
Sep 2018-Aug 2021 Biodiversity Conservation and Community Development in Al-Makhrour Valley in Bethlehem, Palestine. Darwin Initiative Fund.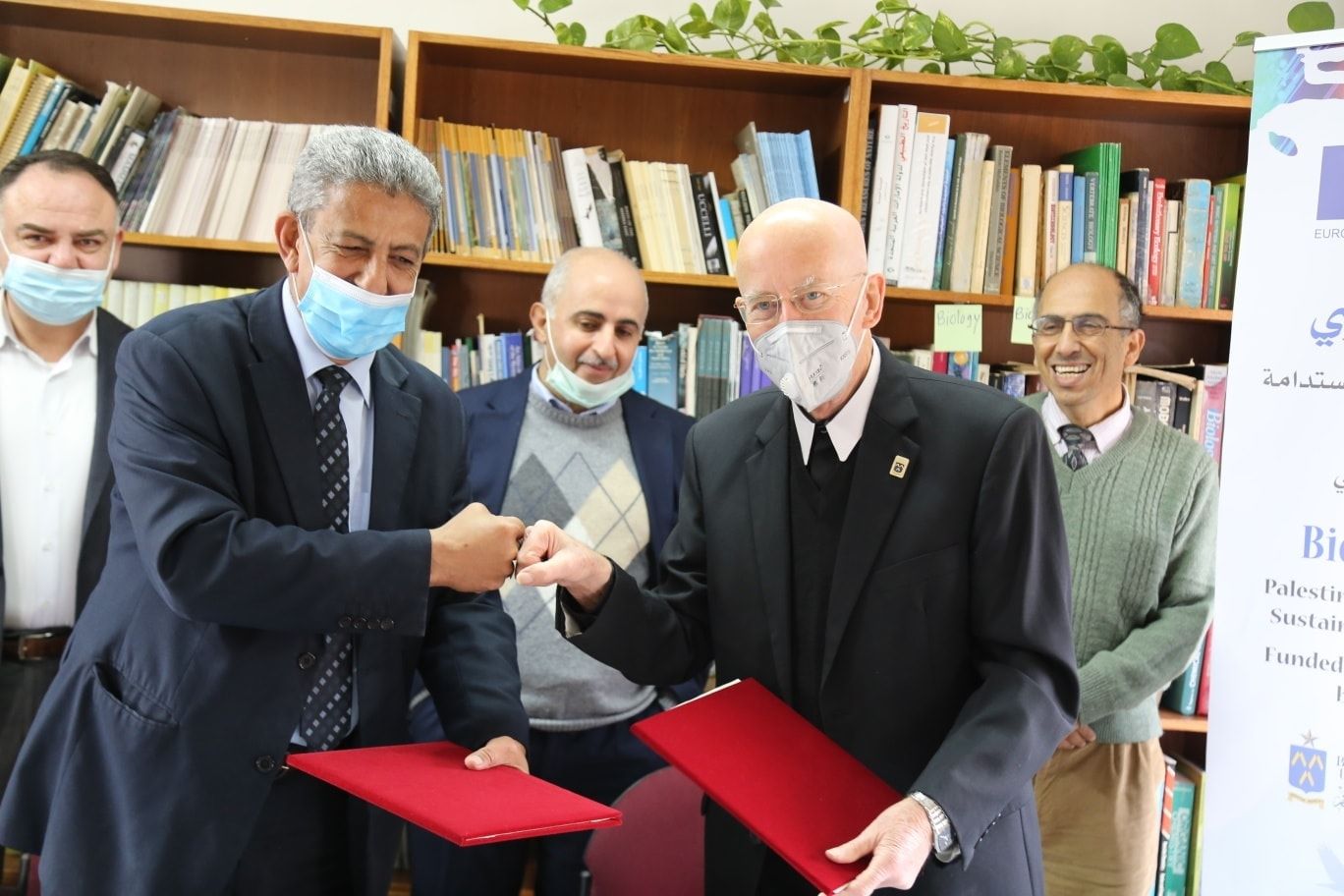 Completed Projects
Jun 2018 – May 2020. Biodiversity Conservation in Al-Makhrour Valley, Bethlehem, Palestine. National Geographic Society.
Sep 2018 – Aug 2019. Building the Capacity to Protect Palestinian Land and Heritage through Museology and Eco-Tourism. British Council.
Apr 2018 – May 2019. Community Garden. This project is granted and directed by the Rotary Club plus cofunding from the Knights of the Equestrian Order.
Jan 2018 – Dec 2018. Climate Change Education in Palestine. In collaboration with zoinet.org, Action de sensibilisation et d'éducation à l'environnement et le changement climatique pour les communautés en Palestine by City of Geneva (for execution in Palestine).
Jan 2017-Feb 2018 Actions for Environmental Sustainability in Wadi Zarqa Protected Area. UNDP-GEF-SGP
Jan – Dec 2017 Cytogenetic studies on biodiversity indicator species of Land Snails (Gastropoda, Mollusca). Bethlehem University Institutional Research Grant.
Jan - Sep 2018. Socio-economic sustainable development and environmental conservation at the northern transition zone to Wadi Qana Protected Area, Palestine. Royal Belgian Institute of Natural Sciences.
Aug 2017 Small project for creating module for environmental training (from http://www.palestinaorientering.dk)
Sep 2016 - Apr 2017. Empowering Youth in Environmental Stewardship. US Consulate.
Sep 2016 - Apr 2017. Models of sustainability at Bethlehem University. Canada Fund for Local Initiatives (CFLI).
Jun-Aug 2016. Environmental Conservation and protected areas in Palestine: Challenges and Opportunities. The Hanns Seidel Foundation (Hanns-Seidel-Stiftung), Consultancy Report available xii+159 pp.
Jun 2016 Culture of Resistance grant for workshops on Sumud and sustainable living.
Mar 2016 GIZ grant to host a water workshop highlighting sustainability issues in the water sector.
2015-2016 TELECANTHUS and Masar Ibrahim contract for developing panels for the tour path that stretches from northern areas of the West Bank to the south.
2015-2016 ERASMUS mobility grant Sienna University in Italy with us at Bethlehem University for exchange of Scholars (Prof. Qumsiyeh travel to Italy April 2016).
2015 Palestinian American Research Council (PARC) funding for exchange which helped bring Dr. Faysal Bibi (Paleontologist) from Museum fur Naturkunde, Berlin to help the Palestine Museum of Natural History.
2015 Telemachus Foundation To Empower The Poor And End War (pilot project for biodiversity/permaculture).